Researchers
Marija Bartl
Marija is a Professor of Transnational Private Law at the Amsterdam Law School and the Director of the Amsterdam Centre for Transformative Private Law.
Read more
Marija teaches several courses, including 'Private law in European and International Perspective' and 'Law as a Change-Maker'. Marija's research agenda revolves around the relationship between law and social change.
Within the framework of her ERC Starting Grant for a project titled 'Law as a Vehicle of Social Change: Mainstreaming Non-Extractive Economic Practices', Marija focuses on the question how private law could nurture socially and environmentally non-extractive economic practices.
At present, Marija is completing a manuscript titled 'Toward a New Collective Imaginary', which aims to articulate the imaginary that will come to replace the neoliberal one.
Vladimir Bogoeski
Vladimir is a postdoctoral researcher at the University of Amsterdam. His current work is situated in the intersection of private law, labour law and political economy of labour.
Read more
As part of the N-EXTLAW team Vladimir works on questions of how private law structures work relations, focusing on worker cooperatives as an alternative model of organising economic activity and work. He is interested in critical approaches to law, participatory action research (PAR), organising and social movements.
Prior to joining the UvA Vladimir was a postdoctoral fellow at the Law Faculty of the Hebrew University in Jerusalem. He received his doctorate from the Hertie School in Berlin and completed the Doctoral Programme "Unity and Difference in the European Legal Area" at the Humboldt University European Law School. He holds a Masters Degree in European and International Law (LLM.Eur) from the University of Bremen, and an LLB from the Ss Cyril and Methodius University of Skopje. Prior to his doctoral studies, Vladimir spent several years working for the German Trade Union Confederation, counselling and assisting migrant workers with the Fair Mobility Project.
Nena van der Horst
Nena is a PhD candidate at the Amsterdam Center for Transformative Private Law. Her research is on the organizational purpose. She is also interested in Doughnut economics.
Read more
Nena is a Dutch scholar with a background in private law and economics. She obtained both her master's degree in law (cum laude) and her master's degree in economics at the Radboud University in Nijmegen. She is interested in sustainable private law, social purpose and Doughnut Economics.
Within the N-EXTLAW project, Nena's PhD research studies how the organizational purpose should be legally designed so that it contributes to social change. She is planning to conduct ethnographic studies to investigate in depth how a purpose impacts people's motivation and behavior on various levels of an organization.
Mario Pagano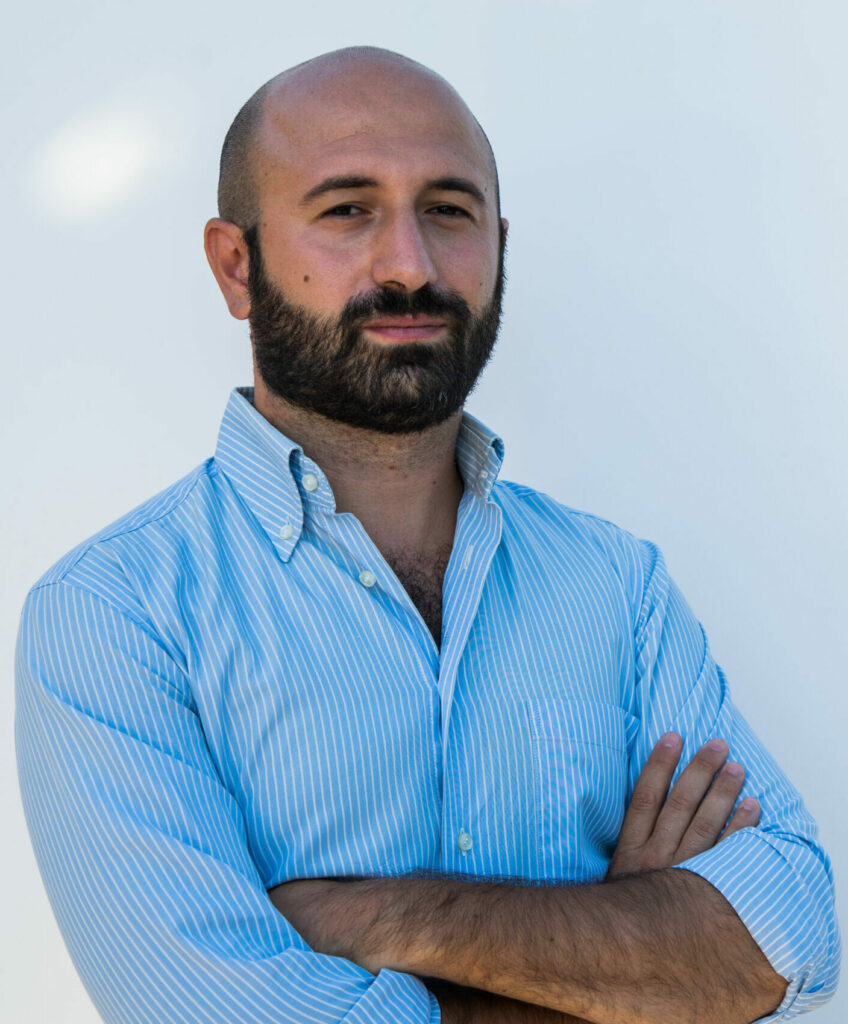 Mario is a postdoctoral researcher at the University of Amsterdam. His current research is situated at the intersection between European private law and administrative law.
Read more
As part of the N-EXTLAW team, Mario works on the identification of the Italian community of non-extractive enterprises. He also studies the Italian public and private legal infrastructure that enables or obstructs the non-extractive economy and develops the public law dimension of the project, including aspects of public procurement, tax, and administrative law. Mario is interested in combining traditional doctrinal methods of legal analysis with qualitative and archival methods of socio-legal research, including participatory action research (PAR). Mario is also interested in emphasising the 'law in action' dimension of his research, with special attention to social movements.
Prior to joining the UvA, Mario did his PhD at the Law department of the European University Institute (EUI) of Florence. His PhD dissertation focused on the legal mobilisation strategies deployed by environmental NGOs to overcome the Plaumann test in EU environmental and climate litigation before the European Court of Justice. At the EUI, Mario founded and coordinated the 'Engaged Academics' Working Group, aiming to bridge the young scholars of the Institute with the local civil society of Florence and its surroundings. Prior to his doctoral studies, Mario worked in Brussels as a bluebook trainee at DG ENV of the European Commission, in the infringement proceedings unit. He also holds an LLM in European Law from the College of Europe (Bruges) and a Bachelor's/Master's combined degree in Law from the Università Cattolica of Milan.
Pauline Boivin
Pauline holds a master's degree in Political Science and European Affairs from the Institute of Political Science. Her current research investigates existing practices of extractivism in Europe from a systemic perspective.
Read more
While currently employed as a Project and Policy Manager at the Lifelong Learning Platform (an advocacy EU-NGO promoting lifelong learning in Europe), she has spent years conducting research on systemic change and the new economy. She started a research internship at N-EXTLAW in January 2023 with the aim to better understand what defines and differentiates environmental, social and economic extractivism practices from non-extractivism practices using an interdisciplinary approach.
Giacomo Bruno
Giacomo is an LL.M. candidate and incoming PhD student in international law at the Geneva Graduate Institute. His current research focuses on the definition of non-extractive economic practices at the intersection of legal and political theory.
Read more
Before moving to Geneva, Giacomo studied law in Turin and London and interned at the International Training Centre of the International Labour Organization. He joined the N-EXTLAW project as an intern in February 2023.
Previous Team Members
Kinanya Pijl
Kinanya Pijl is Assistant Professor in Private Law at the University of Amsterdam and specialises in sustainable finance and international responsible business conduct. She worked as a researcher in the N-EXTLAW Project until August 2022. For her doctoral research project, Kinanya conducted extensive empirical research in the banking sectors in the Netherlands, Germany and the United Kingdom to investigate the potential and limitations of Europe's market-based approach to aligning the banking sector with the goals of creating a sustainable economy. Her dissertation provides a counter-narrative for more sustainable 'sustainable banking' in Europe. Kinanya is interested in the relationship between banks and society; legal tools that serve a more sustainable economy; de facto regulation and regulators in our global economy; corporate purpose; and stakeholder accountability. She teaches company law, contract law and financial law at the University of Amsterdam and divides her time between Amsterdam and Florence. Kinanya aims to use her academic insights to help companies transform the way they do business.
Angus Fry
Angus is an LL.M. candidate at the University of Amsterdam. His current research focuses on the interaction between European Union law and non-extractive entities.
Previous Interns
Marlie Janssen
Jie Ouyang
Zafar Shaikhli
Mark Bumbac
Julia van Litsenberg
Merel Livestro
Demirhan Çelebioğlu
Laetitia Bornscheuer
Jesse Peters
Advisory Board
Our project relies on a number of very prominent academics as well as important representatives of civil society. They help us strengthen our legal, political-economic and methodological expertise.
The AB brings together notable academics who have worked on the junctures of sustainability, private law and regulation, accompanied by scholars who will strengthen our expertise in particular forms of economic practices or different disciplines (economics):
Prof. Beate Kristine Sjåfjell (Oslo)
Prof. Ugo MatteI (Turin, IT, Hastings, USA)
Prof. Hans W. Micklitz (European University Institute)
Dr. Alessandra Arcuri (Rotterdam)
Prof. Iris Goldner Lang (Zagreb)
Prof. Danijela Dolenec (Zagreb)
Dr. Werner Raza (Vienna)
The Advisory Board also brings together a number of important members of civil society who have served as nodes for the international cooperation of the practitioners of N-EXT's:
Daniel Chavez (Transnational Institute, Netherlands)
Vedran Horvat (Institute for Political Ecology, Croatia)
Judith Delheim (Rosa-Luxemburg Foundation, Germany)
Donnie MacLurcan, (PostGrowth Institute, USA)
Dennis Berkel (Urgenda, NL)
Melanie Rieback (Radically Open Security, Netherlands)